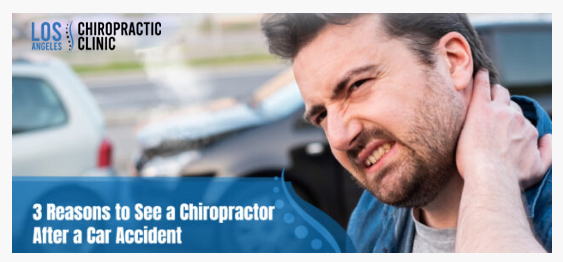 Car crashes can be very traumatic, and frankly, scary. Some of us are fortunate and may have never been involved in an accident on the road, others have been perhaps involved in a rear-ending, a "t-bone," or another type of accident. Many thoughts may go through your head right after an accident, the most important thing to think about is: are you and the other driver/passengers all right? However, it's easy to get distracted from how you feel by taking pictures of the cars, calling the insurance company, calling the police, etc.
Initially, you might feel fine and think and say to yourself "I am alright." But if not immediately, over time, that stiffness or pain may start to get worse, or you notice it hasn't gotten better after a few days or a week, the longer you wait the worse your symptoms may become. So after you tend to the accident reports and claims, we recommend scheduling an appointment with a chiropractor right away. Most chiropractors treat patients after car accidents on a regular basis, and in our office, at Los Angeles Accident Chiropractor we see these accident patients on a daily basis and have the experience and knowledge to get you on the right path.
3 Benefits to Visit a Los Angeles Chiropractor After Car Accident
We have put together the Top 3 Reasons to Visit a Chiropractor After a Car Accident:
1. The appropriate chiropractic care for whiplash or some injury to the spine
Studies have shown that even low-speed crashes can cause significant injury to our spines, even if it seems like just an ache or a little fender bender. The sooner you get treatment, the better outcome you will likely have. The longer you wait, it may become more difficult to treat as your pain remains the same or gets worse. Don't wait to be seen by a chiropractor, we recommend an evaluation within days after your accident. Chiropractors are thoroughly educated in dealing with whiplash and post-accident injuries and can guide your treatment in the right direction.
2. Experienced chiropractors can identify hidden injuries
It is quite obvious to notice cuts, bruises, and broken bones if your accident is more severe. However, sometimes there are injuries that lie beneath the surface, such as ligament tears or disc protrusions. Sometimes these can happen and you literally may have no idea they even occurred. Chiropractors are trained to help identify these, can order MRI or other studies to visualize the injured areas, and can even refer you to the right medical doctor or specialist who also sees accident patients. This way you get the right consultation and care if you need more treatment in addition to chiropractic.
3. Seeing a chiropractor right away may prevent surgeries or medical bills down the road
We have many patients in our office on a regular basis who say "I wish I would have gotten this treated right away." These are patients who thought they felt "okay" after the accident, but their soreness never went away, and months or years later their pain and injuries became so severe that they needed more invasive treatments, such as cortisone injections and even surgery. In our practice we have patients saying "I am so glad I found your office." Those patients understood that they stood the best chance of making a quick recovery and avoiding expensive procedures down the road by getting the right treatment right away.
Seeing a chiropractor after an accident builds value to your insurance claim.
Chiropractors are able to document your injuries so that you can get help paying for the treatment you need. In fact, most of our accident patients get treatment in our office free of charge, which is paid for by the at-fault insurance policy, or yours if the person who caused the accident doesn't have insurance. If you need legal representation, we can refer you to great local injury attorneys who can guide you through the claims process, so your vehicle gets repaired and your medical bills are paid for while you recover and get back to normalcy! We also accept lien when treating a patient post car accident.
Get Quality Car Accident Injury Care at Los Angeles Accident Chiropractor
If you are in a car accident, please contact a car wreck doctor near you at (562) 262-2225 for an exam and consultation. We will make sure you get the right treatment you need and answer any questions along the way!
Leave a reply →